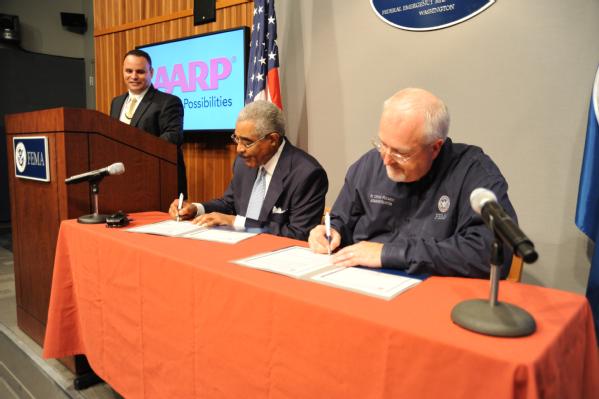 Effectively responding to disasters requires a team, but not just any team. This team needs to be as diverse, multi-faceted, and as talented as the fabric of America itself. Because of this, FEMA is always looking for opportunities to strengthen the team that prepares for, responds to, and recovers from emergencies.
I'm proud that last week FEMA took a step in bolstering this collection of partners by signing a partnership agreement with the American Association of Retired Professionals (AARP). Here's Administrator Fugate and AARP CEO Barry Rand at the signing ceremony:

As Administrator Fugate and Mr. Rand said, the partnership between FEMA and AARP is all about building resilience in homes, neighborhoods, and communities around the U.S. That could mean providing information so people understand the disaster risks in their area, ensuring Americans are aware of assistance and services that are available after a disaster, or sharing best practices so people rebuild their homes and communities to make more resilient after a disaster strikes.
I hope the partnership inspires you to take action to make your family, home, business, or neighborhood better prepared for a disaster. Since we're in the peak of the Atlantic hurricane season, now is a great time to review your family's emergency plan and ensure your emergency supply kit is stocked and ready, just in case. In addition to FEMA's Ready.gov/hurricanes page, another great place for information on preparing for hurricanes or tropical storms is the AARP "Operation Hurricane Prepare". It has a handy checklist and videos that put preparedness actions at the forefront.
Finally, check out the the AARP blog for their take on the partnership and details on how AARP members are already lending a helping hand in disaster response. One way is through Createthegood.org, which pulls together volunteering opportunities and stories on how volunteering is making a positive impact in communities around the country.
Partnerships are so critical to emergency management – I'm glad to welcome AARP as FEMA's newest formal partner!
FEMA Blog