Posted by: Lars Anderson, Director, Public Affairs

At the end of each week, we post a "What We're Watching" blog as we look ahead to the weekend and recap events from the week. We encourage you to share it with your friends and family, and have a safe weekend.
Severe weather forecast
For those of you in the Plains and the Midwest, the National Weather Service is forecasting potentially severe weather over the weekend and possibly into next week. The storm system may bring large, damaging hail and strong winds, with tornadoes possible on Sunday and Monday. Here's a piece of the forecast from the National Weather Service: "It is important to note that due to the slow moving nature of this system, the areas affected through Monday may include locations that already had severe weather occur earlier in the period."
If severe weather is possible in your area, remember to:
Closely follow your local forecast through the National Weather Service website, mobile site, or through local TV & radio reports
Listen to the direction of local officials. If they advise people to find shelter because of an upcoming storm, do so immediately
Double check your family's emergency kit to make sure you have supplies to sustain you and your family for at least 72 hours
Make sure your family knows what to do in case severe weather strikes – talk about where to take shelter at home, or how you can stay safe if you're traveling
For more tips on staying safe before, during, and after severe weather, check out Ready.gov or FEMA's mobile site.
Assistance to those affected by Illinois flooding & storms
Last week, President Obama declared a major disaster for 11 counties in Illinois, making federal assistance available to individuals and families impacted by the recent flooding and severe storms. We've been working hard to encourage impacted residents to apply for assistance.
FEMA Disaster Survivor Assistance Teams are in neighborhoods damaged by the storms and floods, going door-to-door letting people know how to apply for assistance and answering any questions about the application process. We've also opened several disaster recovery centers in impacted areas. These centers provide a place for people to talk face-to-face with staff from FEMA and our emergency response partners about the assistance that is available.
For the latest information on FEMA's role in Illinois, check out the disaster-specific webpage. And if you're on Twitter, check out our Region 5 Twitter account – it's been posting great updates like:
After a #disaster, be on guard against #fraud. @fema doesn't charge for info or registration. Register at disasterassistance.gov. #IL
— femaregion5 (@femaregion5) May 16, 2013
Friday 5/17 from 10am-2pm @fema will be at the Des Plaines Library, 1501 Ellinwood St, to help people register for aid. #IL @readyillinois
— femaregion5 (@femaregion5) May 17, 2013
[email protected] Disaster Recovery Center open in #Grundy @ Morris Fire Dept. 2301 Ashton Rd Morris, #IL 9am-7pm, 7 days a wk. twitter.com/femaregion5/st…
— femaregion5 (@femaregion5) May 16, 2013
A challenge for "hackers"
I'm talking about hackers who hack for good! I am very excited that FEMA is one of the 19 government partners for the National Civic Day of Hacking, coming up June 1-2. The event will bring together citizens, software developers, entrepreneurs and government agencies across the nation to solve challenges relevant to America's neighborhoods, cities, and the country. To give you a scale of the event, there are 87 locations across the U.S. that will participate and work on over 37 data sets and resources. FEMA's U.S. Fire Administration submitted its own challenge for the event – use our wealth of fire incident data and build an online visualization tool that brings the data to life.
Check out the National Civic Day of Hacking website for more info and spread the word about our challenge!
Photos of the week
To round out the week, here's one of my favorite recent photos from the FEMA photo library: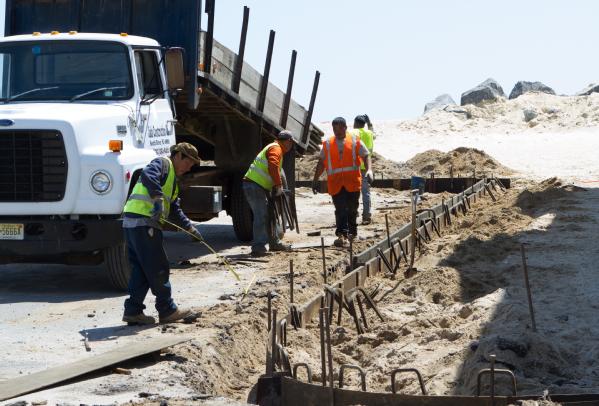 Bay Head, N.J., May 14, 2013 — A construction crew rebuilds one of several concrete walkways for beach access in Bay Head as part of the rebuilding and recovery process following Hurricane Sandy.
Have a safe weekend!
FEMA Blog