Posted by: Lars Anderson, Director, Public Affairs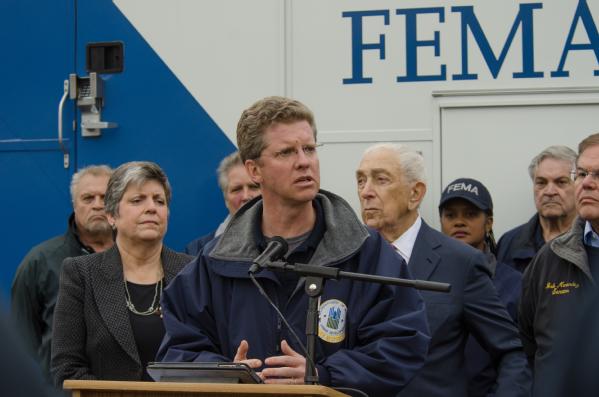 CAPTION: Lincroft, N.J., Nov. 16, 2012 — Department of Housing and Urban Development Secretary Shaun Donovan speaks at a press conference concerning Hurricane Sandy recovery efforts, as Department of Homeland Security Secretary Napolitano and Senator stand in the background.
As we often say at FEMA, successful emergency management requires a team effort. Without question, the importance of teamwork has never been more evident as the recovery to Hurricane Sandy continues. At the direction of President Obama, FEMA continues to coordinate the federal government's efforts in a coordinated way that reaches disaster survivors. Whether it's the U.S. Army Corps of Engineers helping with debris removal, the Environmental Protection Agency advising survivors on mold removal, or the Small Business Administration helping affected business owners get their doors open quickly – FEMA continues to leverage the expertise of our federal partners to make a lasting impact.
Another important partner on the team is the Department of Housing and Urban Development (HUD). After many disasters, FEMA works closely with HUD to ensure those impacted by the disaster have safe housing options if their residence was damaged or destroyed.
Last week, President Obama announced that he asked Housing and Urban Development Secretary Shaun Donovan to continue to work closely with Governors, mayors and local officials of New Jersey and New York as they begin the process of identifying redevelopment plans for affected communities. This announcement further links FEMA's role in disaster recovery with HUD's role in redevelopment, ensuring the two agencies will continue to work closely together. As long term recovery needs are identified, HUD will lend expertise in translating those needs into solutions that work for disaster survivors.
If you're a disaster survivor, the President's announcement does not change the process of applying for assistance from the federal government. FEMA will continue to administer federal disaster assistance, so it's important to apply through FEMA if you have been impacted by Hurricane Sandy. You can apply for assistance by visiting www.disasterassistance.gov or by calling 1-800-621-3362 (FEMA).
Again, FEMA will continue to lead the federal government's recovery efforts in response to Hurricane Sandy, and a great way to keep up with the progress is through this blog, the FEMA Sandy Facebook and Twitter accounts, or at www.fema.gov/sandy. You can also follow HUD's Hurricane Sandy recovery efforts on their website.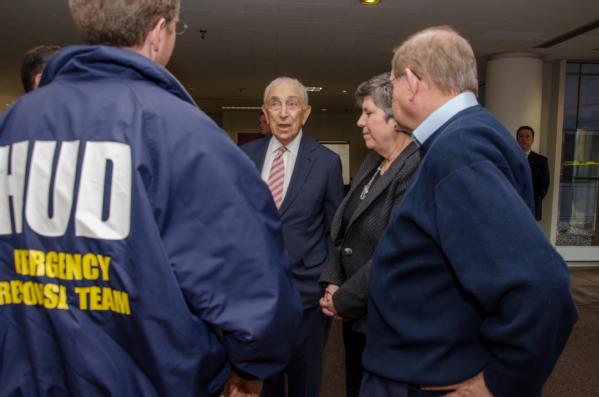 CAPTION: Lincroft, N.J., Nov. 16, 2012 — Janet Napolitano, Secretary of the Department of Homeland Security and Shaun Donovan, Secretary of the Department of Housing and Urban Development, along with members of Congress, greet FEMA employees at the Joint Field Office where Hurricane Sandy recovery efforts are coordinated.